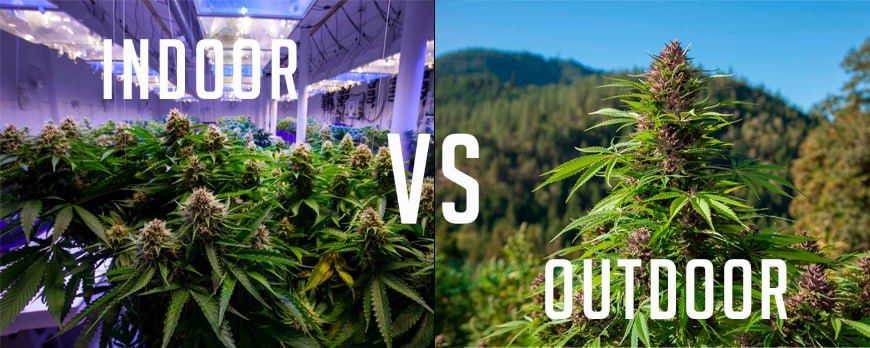 INDOOR vs OUTDOOR Weed: Is One Better Than the Other?
If you want to grow cannabis to use it yourself or to sell on your online store, it's very important to know which the right growth method is. Some consider indoor growing is better, others think that growing it outside is a much better idea. So the question is, should you choose indoor or outdoor weed growing? Let's find out and see which option is better!
Why should you grow your weed indoors?
The great advantage you get from growing your weed indoors is that you can easily create fully customizable growth setups. You can use a single grow light if you want, or you can design a comprehensive hydroponics setup. Growing weed indoors will give you more stable growth conditions and thus fewer things will end up going wrong.
Additionally, indoor growth also comes with way less exposure to diseases and pests. You even have more control over the lifecycle of the plant, and you also have the opportunity to grow weed the entire year, without any restrictions. That's the reason why indoor growing is better, since you have way less challenges to deal with. You don't have to worry that much about pests, bad weather and instability. Instead, you create the perfect growth environment and that can help you deliver consistency and great weed quality all the time.
How do you know a plant is grown indoors? Usually it has thin stems, a higher trichome density and smaller, tighter packed buds. The coloration is brighter too, something you won't really see if you grow plants outside. Another aspect is that weed grown indoors will present in a variety of colorful ways. There are strains which have red, purple and even orange flashes.
Why should you grow your weed outdoors?
While indoor growing is great on a small scale, it can be difficult to do that at a commercial level. Sure, some companies do it, but most of them prefer outdoor growing. Every store will say "our seeds" are nurtured and well taken care of, and you can do that in both outdoor and indoor growth situations. But why is it a great idea to grow it outdoors? Cannabis plants benefit from natural light. Not only that, but the day and night cycle can boost their flowering stage, and that can be incredibly important.
Some online stores also choose to do this because they want to deem their product as organic. As we mentioned earlier, though, growing plants outside will end up exposing them to heavy metals, pollutants, chemicals and other unwanted compounds. That's why outdoor growing needs extra steps to ensure no pesticides, pollutants or toxins reach your plants. It's difficult because you can't really control the airflow. Sure, it's great if you want to grow lots of plants, but their quality is lower because of these situations.
If you grow your weed outdoors, then you will notice some very distinctive features. For example, the weed itself has darker leaves, and it also comes with a looser flower consistency. On top of that, their stem is thicker, and the trichome density is lower. Additionally, the bud size is larger when compared to indoor-grown weed.
The visible differences between indoor and outdoor weed
When you grow weed indoors or outdoors, you are already accustomed with its looks and properties. But as a newcomer, it can be difficult to narrow down these differences. This is why we created a small list with the differences between these types of weed.
Size
As we mentioned earlier, the bud size differs quite a bit when it comes to indoor vs outdoor weed. Buds that are grown outside are usually bigger. On top of that, the stems and even the plant itself are not only bigger, but also more robust when you are growing it outside, which is something to keep in mind.
Potency
Is cannabis potency important? Of course, because you always want to get the maximum potency from your plant. Indoor plants have a higher potency because they grow in a controlled environment. That being said, weed grown outside usually has more cannabinoids, thanks to its natural light exposure and the day and night cycle. Still, growing indoors is the best option if you want high potency from your plant, since you can have way more control over growth conditions.
Flavor
Does the flavor differ depending on the growth medium? Yes, for the most part if you grow weed indoors, you have a more intense flavor. If you choose to grow the same strain both indoors and outdoors, you'll notice right away that the ones grown inside have more flavors.
Color
If you grow your cannabis outside, then it has a darker color and it has more grown when compared to orange. It will also turn into striking, deep purple. Cannabis grown indoors is more orange than brown, and on top of that it retains a light shade of purple. In general, it's brighter, lighter and it comes with vivid green coloring.
Should you grow your weed indoors or outdoors?
As you can see, the growth medium does matter when you want to grow weed. The truth is that both mediums have their pros and cons. Growing your weed inside delivers stable growth conditions, but if you grow it outside it has access to more natural light and that can help quite a bit. With that in mind, both options are great, but if you want to choose a specific one then indoor growing seems to be the better option.
Why is that? Indoor growing gives you much better, stable conditions and thus you will have higher quality weed in general. Yes, it's more expensive and you can only grow a limited amount, but it's worth it. If you like to buy seeds and grow your own weed, you can do that on the Seeds Mafia website. We are a specialty online shop dedicated to helping DIY and commercial weed growers with the best seeds from a huge variety of cannabis strains. Whether you want to grow your weed indoors or outdoors, you always want to ensure that you have access to great seeds, as that's what will help provide a wonderful result every time!
Posted on
10/31/2022
by
Home
0
3440
Leave a CommentLeave a Reply
Latest Comments
No comments