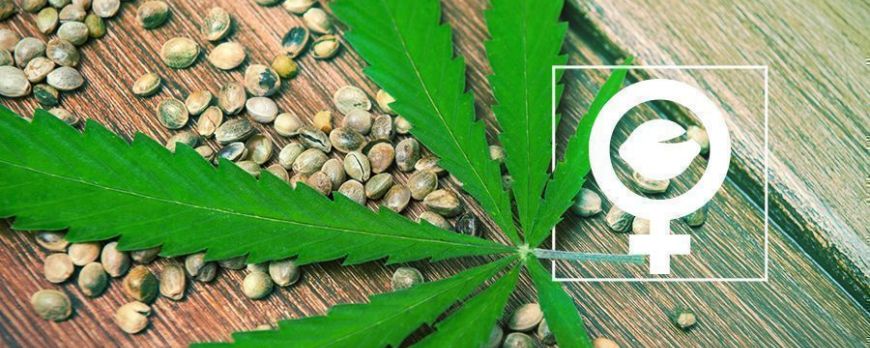 What are feminized cannabis seeds ?
Anyone who's ever savored a joint owes their enjoyment to the fruits of the cannabis plant, but moreover, to the female of the species. That's because only female cannabis plants produce the cannabinoid - rich flowers that deliver the flavors and effects consumers look for.
Male plants produce seed pods, and, if they stick around long enough, they'll pollinate the female plants and dramatically reduce their yields. Because of that, those growing regular seeds had to identify the sex of their plants as soon as possible in order to cull the males.
Then, the creation of feminized cannabis seeds in the 1990s revolution used cannabis cultivation. Feminized cannabis seeds are genetically engineered to only become female plants, and they almost always (99.9%) do so. Eliminating the game of chance, this advancement made growing cannabis much easier, as well as more economical.
Are feminized seeds guaranteed to be female?
While feminized seeds generally grow only female plants, there is no 100% guarantee whether you buy feminized seeds or create them yourself. Everyonce in a while, a feminized seed will still grow up to become a male plant.
For this reason, it's a good idea to keep a close eye on your plants as they mature. If you ever see pollen sacs starting to form, remove the plant before it accidentally pollinates and ruins your female plants.
Are regular seeds better than feminized?
Growing cannabis is all about your goals and preferences. There is no inherent reason why regular female marijuana seeds would be considered better than feminized seeds. With that said, feminized seeds:
· Maximize yields by reducing the chance of producing an unusable male plant
· Decrease the risk that a male plant will accidentally pollinate female plants
· Simplify the growing process by making unexpected male plants much less likely
In many ways, feminized seeds can be a good option for new growers, as they eliminate some guess work and reduce the pressure to quickly and accurately identify and eradicate unwanted male plants. However, there are no guarantees and new growers should still do their homework and know how to spot a male cannabis plant.
Pros vs cons feminized seeds
Pros of Feminized Seeds
- All plants end up producing buds
- Less wasted space on plants that need to be thrown away
- Don't need to watch plants closely to make sure your move males
- No chance of pollination without pollen sacs, so no seedy buds
Cons of Feminized Seeds
-In order to build a robust breeding program and create new strains, you should start with regular seeds so you have both male and female plants
-It's possible to buy feminized seeds from bad breeders which turn into problematic hermies (mixed sex plants) or even just endup being half male plants like regular seeds. That's why it's important to order seeds from a trustworthy breeder!
Why grow from feminized cannabis seeds?
There are numerous advantages for growers who start their garden using feminized seeds. By removing the guesswork of germinating regular seeds, feminized seeds streamline the growing process, saving space and time. That efficiency is key for medical cannabis patients and hobby growers. Since most cannabis regulations limit plant counts, growers cultivating a small crop of cannabis for personal use want to ensure they're getting the most out of their grow.
Male plants don't just take up space in a garden, either. They can also sap time and resources from growers. When male and female plants are both present, growers need to cultivate both until their sexes are clear. While some strains will show early signs of their sex before flowering begins, most cannabis plants don't begin to express their sex until they start to mature past the vegetative stage.
Who uses feminized strains and why?
High-quality feminized seeds on the market today most often produce plants rich in THC. As the main psychotropic component in cannabis, all types of cannabis users enjoy the cannabinoid for the powerful high initiates.
· Recreational users enjoy the stoning, relaxing, euphoric, or uplifting high induced by feminized strains. Given the vast variety of options out there, users can find some chill time in the evening or enjoy an energetic daytime buzz, depending on what they're after. Also, since many strains feature different ratios of cannabinoids, terpenes, and sativa/indica genetics, you can experiment with different feminized strains to find a sweet spot in terms of effect.
· Those who use cannabis for holistic purposes also choose feminized strains for their pronounced effect. They may find that the THC lifts their mood and helps them wind down intense situations, or simply takes the edge off whatever symptoms they're dealing with. Users also report that THC helps them achieve a good night's sleep, along with other benefits.
Tips for growing marijuana from feminized seeds
The steps for growing cannabis from feminized seeds are the same as growing from regular seeds. If you understand the laws and regulations where you live and want to give cannabis cultivation a try, keep these things in mind. Before you plant the first seed, you'll need to make some decisions:
· Do you want to grow your cannabis indoors, in a greenhouse, or outside under the sun?
· What strain(s) do you plan to cultivate?
· Will it be autoflowering or photoperiod?
· Are you going to grow from seed or clone a cannabis plant?
· What cultivation medium will you use? Good old soil, hydroponic solution, or an aeroponic system?
Each of these areas may generate more questions. If you grow indoors will you use natural or artificial light? If you go hydroponic, will you also use a grow medium like rock wool or hydroton? While you could just buy a clone, plop it in some soil, and hope, it's best to think like a beginner and do some thorough research before taking the marijuana-growing plunge.
On the other hand, if that's just not your style, you could treat cannabis like a houseplant and attempt a simple indoor grow with natural light. If you start with a plant or two on a sunny windowsill and wind up with a nice harvest, you might choose to move on to a more complicated setup or just keep it simple. Like most things in the cannabis world, it's all up to your personal taste and how much effort you want to put into it.
Leave a CommentLeave a Reply
Latest Comments
No comments