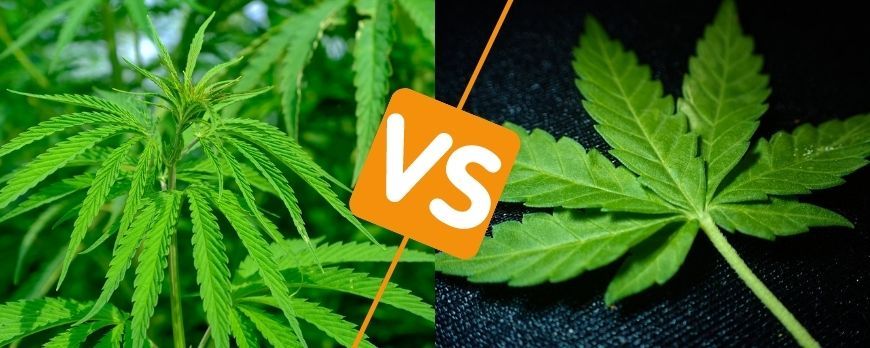 SATIVA VS INDICA
SATIVA VS INDICA
What's the difference between Sativa and Indica?
We know that for a new buyer cannabis seeds can be hard to understand all these complicated word and abbreviation. In hope of helping you and making some basics clear we created this article. We hope you enjoy it!
Cannabis is a plant with flowers which has three important subspecies: Indica, Sativa, and Ruderalis. The most popular and used in this domain are the first two, Indica and Sativa.
This being said we get to the next question: WHICH ONE IS BETTER? The answer to this question is simple: Depends.
The Satina plants grow tall with narrow leaves and they have a big concentration of THC(1) but a small one of CBD(2).
On the other side, the Indica plants grow short and bushy with wide leaves. They have a bigger percentage of CBD than Satina but at the same time way smaller CBD componence.
EFFECTS
By the effects they have on the human body, these two subspecies are again in opposite corners of the spectrum.
On one hand, Sativa stimulates especially the brain of the consumer. More specific:
Increases creativity and attention
Decreases anxiety
Has antidepressive effect
Confers energy
Gives a state of euphoria and a pleasant sensation
Increases serotonin(3)
It's recommended for day use
On the other hand, Indica stimulates mainly the body of the user:
• Provides a state of relief
• Helps with controlling stress problems
• Stimulates appetite
• Helps to regulate sleep problems
• Relieves pains
• Recommended for use during the evening and night
** Efectes are directly influenced by how cannabis gets into the human body. For example, if it's inhaled you get a more fast and stronger result compared to digesting/swallowing it.
From the harvest point of view and the requirements for growing a plant, the Sativa need more time and light so they can grow and develop well than the other subspecies.
At this moment on the market, there are hubris of the two categories. These offer the advantages of both parties. However, after hybridization, the resulting plants no longer have the same potency in terms of intensity of effects, so they can not fully provide the same sensations and benefits. Altho it's worth giving it a shot.
In the end, if you want some extra energy and some creativity, or simply have fun you should try the Sativa plants. In exchange, if you want to sleep better or to get rid of pains we recommend Indica. Try different varieties and see what work for you. Here are some of our favorites:
Thank you for your time. Have a nice day!
(1) THC - Is the main active substance in cannabis. It produces the specific state of euphoria. The full name is tetrahydrocannabinol.(2) CBD- Has the same chemical formula with THC but different effects. It produces drowsiness and helps to relieve pain and inflammation. The full name is cannabidiol(3) Serotonin-Hormone that influences sleep, learning ability, states, anxiety and appetite. It is also known as the hormone of happiness.
Leave a CommentLeave a Reply
Latest Comments
No comments